As add-on peripherals become smaller and more valuable we develop security locks and cables to protect them. The products below can all be modified for your applications.
The Keyboard Lock & Mouse Lock is a simple device to let you lock keyboard and mouse cables to a security cable. It's an inexpensive way to solve an annoying problem. One KML will secure up to 3 cords.

Below you'll find:

A Keyboard Lock & Mouse Lock adapter that works with our other security cables.
It secures keyboards and mouses by capturing their cables, and costs just $3.20 ! - KML

A simple security wire to lock power and control cables together to prevent removal.
Costs less than $2 ! - LXC1L

A keyboard padlock that locks all your cables together $3.20 ! - P1KA

Our customers say . . .
"I said I would let you know which of the "Keyboard mouse cable lock down" samples I like better and I think I like the cleaner looking silver one. It's dimensions are actually perfect as I have a thinner keyboard cable on this new Dell computer. I like how tight the fit is and it would be pretty tuff to defeat. Anyway thanks for the input on this and I'm glad you guys could come up with what I was looking for. It is helping to secure a $12K workstation from "walking off".
Your help is much appreciated here in the land of the scavengers."
C. DeDecker, Database Administrator / Development, University of Iowa Healthcare
Download Brochure pdf (285 KB)
Download Price Sheet pdf (80 KB)
Online orders can be paid using Paypal or a credit card.
It's easy to place orders by phone,
and we also accept purchase orders by mail, fax, or email.
PRODUCTS
Keyboard Lock & Cord Adapter
Keyboard Lock and Cord Keeper
Your keyboard and mouse cable fit in the bottom of our modified cord adapter. When our regular security cable passes through the 2 large holes, there's no way the mouse and keyboard cables can be removed. .375" holes fit cable snugly to assure protection.
---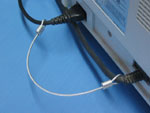 Wire Lock
Power Cord Tethers
Wire lock tethers are designed to keep low-value items connected to your equipment. The tethers are intended more for management than for theft protection, although they will stop most thefts of opportunity.

The wire lock simply attaches your peripheral cables to each other and to the power cord or security cable on your desktop computer. You receive a 1/16" diameter wire cable, coated with clear vinyl to 3/32", plus two sleeve ends that let you create tight loops around your cables.

Once tight, you crimp the sleeves with a vice-grip to lock them to your equipment. They can be cut off with a hand held wire cutter, and re-attached using another sleeve.

We can supply any length needed, for $.60 per foot additional. Please call, email or fax your orders for unusual or custom lengths.

These cables can be ordered in BLACK !
Just add qty. 1 of the BK option, to your cart to apply the black option to your full order.
Related Products
---
Keyboard Cable Lock
Use this small padlock to lock all your cables together. Once closed, the cable plugs can't be pulled through the lock. Ideally one of the cables should have a permanent attachment, or you might attach the lock to a security cable or fixture.
Related Products